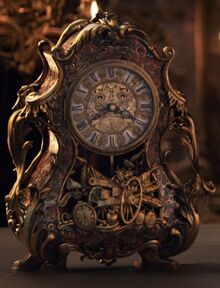 Cogsworth, real name revealed to be Henry, is a supporting character in Beauty and the Beast. He is voiced and portrayed by Ian McKellen.
Cogsworth is the Beast's majordomo, who as part of the curse was turned into an enchanted clock.
Background
Personailty
Role in the Film
Trivia
Gallery
Ad blocker interference detected!
Wikia is a free-to-use site that makes money from advertising. We have a modified experience for viewers using ad blockers

Wikia is not accessible if you've made further modifications. Remove the custom ad blocker rule(s) and the page will load as expected.